H3C AD-WAN Solution Passes Tolly's Authoritative Test, Providing Smart Connection to Accelerate Enterprises Digital Transformation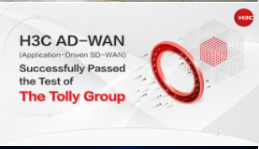 Posted Date : 19 November, 2021
November 12, 2021, Beijing – H3C's Application-Driven SD-WAN solution, or AD-WAN solution, has recently been verified by Tolly Group, a world leading provider of validation services for ICT products and services. The functionality validation report indicates that H3C AD-WAN solution can not only implement traditional SD-WAN functions, but also expand and extend traditional SD-WAN, offering services such as VAS, SD-Branch, enhanced security, and more.
Based on H3C's Cloud & Intelligence Native architecture, the solution is built on a unified digital platform and incorporates a number of advanced technologies, such as containers, micro-services, AI, and big data, with integration of network management, SDN controller, and intelligent analysis, to achieve full network coverage, end-to-end service orchestration, simulation and optimization, and intelligent operations and maintenance.
The H3C AD-WAN solution is designed to accelerate the process of digitalization via reliable, flexible, and efficient enterprise network solutions. It also supports muti-tenant and can manage a Point of Presence (POP) network for ISPs, making it applicable for both enterprise network and ISP networks.