# IDC Worldwide Quarterly Ethernet Switch Tracker and Worldwide Quarterly Router Tracker, in Q2 2021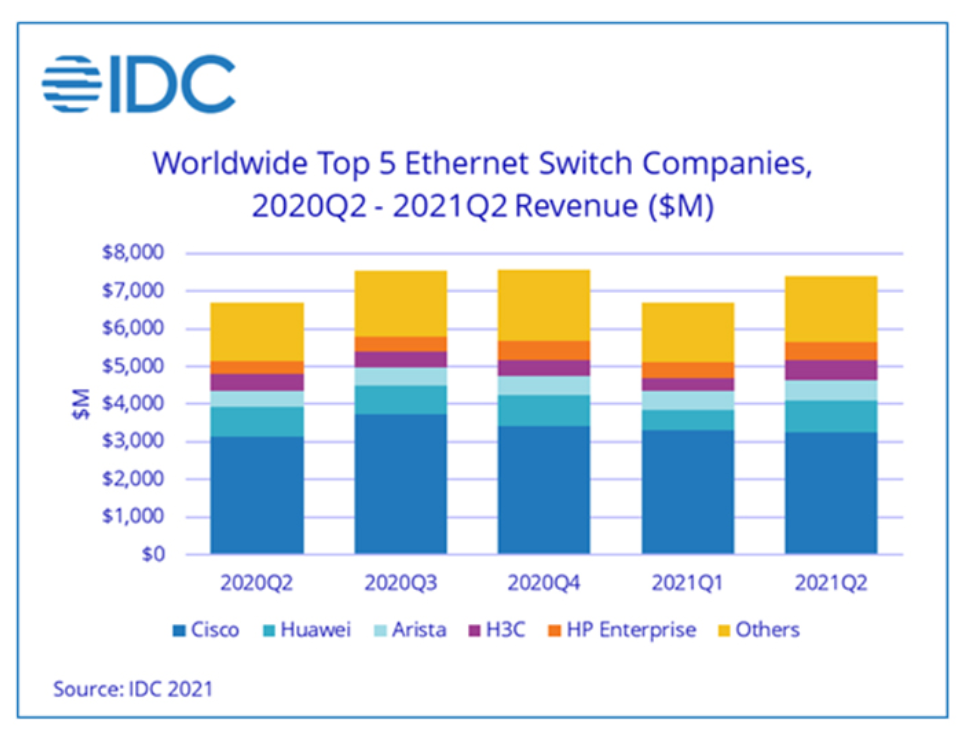 Posted Date : 26 September, 2021
September 26, 2021, Beijing – The latest data released by the International Data Corporation (IDC) Worldwide Quarterly Ethernet Switch Tracker and Worldwide Quarterly Router Tracker shows that global revenues for H3C's Ethernet Switch business recorded a 10.6% year-on-year rise in Q2, ranking fourth worldwide. Despite an overall decline in the global enterprise and service provider (SP) router market, H3C also saw strong performance in its combined service provider and enterprise router business, recording a 32.6% increase in revenue over the previous year. Based on these latest figures, H3C currently owns a 2.5% share of the global router market.
One of the key factors behind the observed rise in the Ethernet switch and router markets is the economic resurgence that is happening in many regions of the world. According to IDC, organizations have made "notable investments in their campus networks, while hyperscalers and other providers of cloud services continue to drive growth in high-bandwidth datacenter switching". These two factors have led to a new surge in demand for Ethernet switches and routers.
H3C is a long-term leader in Ethernet switches, with over two decades of experience in developing and manufacturing the technology. The latest H3C S12500 Data Center Switch is the highest-performance core switch device in the industry, which has successfully completed the industry's first-ever, large-scale SRv6-based 400G performance test by Spirent, the global-leading provider of automated tests and solutions for networks. Drawing on its considerable intellectual property and patents, H3C offers different switch options based on customer needs – from data center cores to campus access and remote branches. All products run H3C's proprietary operating system – Comware OS – making it easier for users to conduct daily IT maintenance and upgrade existing products to more advanced generations.
H3C also has over two decades of experience in developing router technology, having sold over one million units, including 30,000 high-end routers, since 1996. Earlier this April at The NAVIGATE Summit, an annual industrial flagship event by H3C, a batch of new routers have been released which are specifically tailored to certain applications, enabling customers across different industries to conduct their digital transformations with minimal disruption to ongoing operations. Besides, the latest launched Engiant 660, a high-end programmable network processor chip independently developed by H3C, is the only one of its kind that supports high-level language programming in China and can be widely applied in routing, switching and other fields. As the first routing product equipped with Engiant 660 as well as Comware OS, H3C CR16000-M router series, features the high performance, high reliability, full service and intelligence of carrier-grade routers. The launch of CR16000-M router series delivers fast business opening, intelligent network scheduling and AI-enabled operation experience for customers in the cloud era, which indicates that H3C has industry-leading independent R&D capability of commercial high-end routers from system, chip to device.
With digital technology now ubiquitous in virtually every industry, organizations now have more diverse demands when it comes to IT infrastructure. Under its Cloud & AI Native strategy, H3C is committed to helping organizations accelerate their digital transformation with its end-to-end solutions covering semiconductor chips, cloud services and infrastructure, networking, edge computing, and terminal devices. Through its customer-centric approach, H3C will continue to integrate all relevant resources involved in computing, storage, and networking to help customers rapidly build or upgrade their systems.